PERSONAL PROPERTY APPRAISAL INFORMATION
GAB Robins' professional team of appraisers performs personal property appraisals throughout the United States, Canada, Mexico and the Caribbean, specializing in country clubs of all sizes. In today's business environment, it is essential that clubs have a dependable and accurate set of values in place not only for buildings but for personal property as well when placing insurance. Obtaining a GAB Robins Personal Property Appraisal assists the club's management team in identifying and valuing all the club's assets, thus enabling them to insure the personal property at an accurate value.
WHAT IS A PERSONAL PROPERTY APPRAISAL?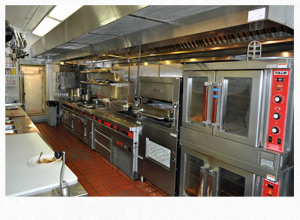 A personal property appraisal is an appraisal that focuses on identification and valuation of furnishings and equipment essential to a club's operation. GAB Robins' personal property appraisals are tailored for each client's specific need and focuses on a replacement cost approach to value. Our clients choose to have a personal property appraisal because they recognize the need of having a complete asset listing by building that is essential when placing insurance. In case of loss, a personal property appraisal provides the security of knowing that a club can provide an insurance company with proof of loss that will expedite the settlement claims process. All GAB Robins' personal property appraisals provide the following details:
Summarization of appraisal procedures applied during the appraisal process
Value conclusions in total and by building
Assumptions and limiting conditions that easily identify what has or has not been included within the final value totals
A complete asset list with descriptions of the appraised items showing, for each item or group of items, the appraised cost
Photographs showing an overview of each room as well as photographs representative of the assets.
WHY OBTAIN A PERSONAL PROPERTY APPRAISAL FROM GAB ROBINS?
With over 40 years experience in providing personal property appraisals, you can trust that GAB Robins has the professional team in place to provide your club with a valuation and inventory of all personal property.
Obtaining an accurate personal property appraisal assists you in determining the correct amount of insurance needed to cover the value of the contents of the club.
GAB Robins' personal property appraisals assist in asset managing by providing a consolidated listing in one document of all club's personal property.
GAB Robins provides an annual personal property update program to assist the club in maintaining an accurate up-to-date update listing and valuation of the club's assets; prior to updating the appraisal, the appraiser will contact the club in order to obtain information regarding assets that have been added/removed from the club since the last appraisal.